FT. LUPTON LAUNCH SITE
Directions
C.R.A.S.H. is launching at our Ft. Lupton site from 9 AM to 1 PM. Check the calendar on the right. The entrance gate is located at 40.10213N, -104.7515 on County Road 16.
From Ft. Lupton – Take Highway 85 north to County Rd. 16. Turn right (east) on County Rd. 16. In ~2 miles it will change to Barley Ave. Continue on Barley east for another 2 miles to the gate on the south. Proceed through the gate and fasten the chain after you pass through. Continue south along the telephone lines to the parking area on your left (east).
Google Map Directions to the gate.
We require that you keep the gate closed and secured with the chain, drive slowly, and stay on the road until you get to our site.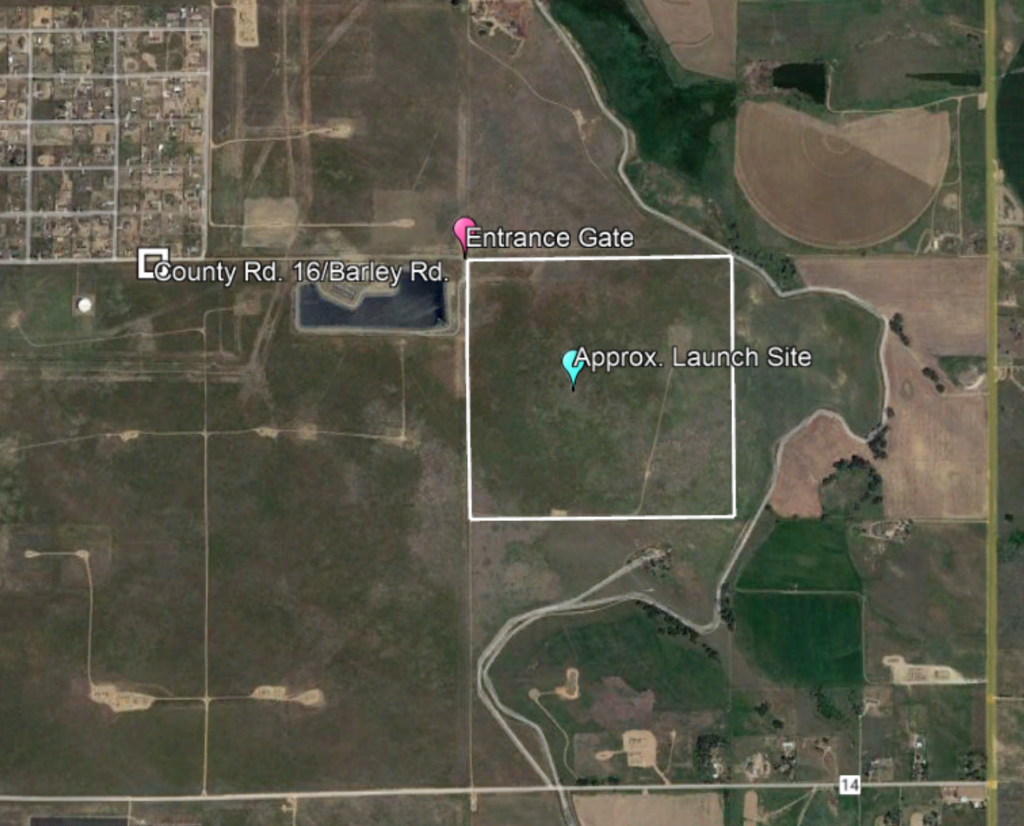 Currently, there are no restroom facilities on site. When you get to Ft Lupton, please make a pit stop before heading to the site.
Local Rules for the Ft. Lupton Launch Site
This 260-acre site is administered by the Colorado State Land Board; we are leasing the land on a yearly basis. Please keep the site clean and stay on the dirt roads.
If your rocket lands outside of the launch area beyond the fences, you MUST NOTIFY THE RANGE OFFICERS; do not exit the fences without permission. When permission to retrieve your rocket is granted, exit through the fence – DO NOT CLIMB ON IT. These are private lands outside of the fences and must be respected.
YOU CANNOT LAUNCH HERE UNLESS YOU ARE ATTENDING A C.R.A.S.H. LAUNCH!
Other details for the launch site
Review the full list of our Club Launch Rules and NAR Safety Rules. Each launch will require a C.R.A.S.H. Flight Card to be filled out. These cards are made available at the launch site or you can choose to print your own flight cards and have them filled out when you arrive. If possible, print your flight cards on thicker, card stock paper.
DO NOT launch any rockets at our location except during scheduled club activities. This is due to our club having insurance through the NAR, and established rocketry safety procedures.